What do you expect from a solution that forecasts and optimizes your clinical supplies?
Unlike a simple forecasting tool, where the expectation is to have an IMP packaging release plan to cover the average demand, you usually start working with risk-based optimization for clinical trial supply management to achieve the following:
manage risk comprehensively and
proactively
reduce the trial supply costs

minimize

drug waste
Yes, using a risk-based optimization solution for clinical trial supply management allows you to achieve all of the above. However, there are also some unexpected, surprising benefits that have been reported back by our clients and that we would like to share with you.
Top surprising benefits:
#1: It's not just about cost reduction, but lower stress and time savings.
Managing clinical trial supplies using risk-based optimization is not just about cost savings. While using the Supply App for clinical trial supply management will on average reduce trial supply costs by 30%, our clients also tell us that they notice a drop in stress among the clinical trial supply managers. This reduced stress level is attributed to the proactive risk management that risk-based optimization provides. The Supply App provides a robust supply strategy which optimizes not only cost, but also shows how much risk is associated with each strategy, and pinpoints when and where that risk would happen. For on-going trials, it is easy to track the trial evolution and identify any deviations that need attention within a single monitoring dashboard. The clinical supply forecasts are compared directly with the actual trial data to see in one view if the trial is on track or if any actions need to be taken. This way of working saves time for clinical trial supply managers while also allowing them to switch out of firefighting mode and increase their control over their trials.
#2: Results go beyond clinical trial supply plans – giving all the details needed for trial set-up
While some clients begin by asking for an optimized planning of their IMP packaging releases, the Supply App provides an overall supply strategy with all of the details needed for its implementation. In addition to the IMP planning, you will also have in hand the specific set-up for your IRT system and the strategy for resupplying your local depots. Further, managing your clinical trial supply with risk-based optimization provides results with all of the supporting details, such as the demand forecasting, average monthly site shipments, and site inventory levels that result from the supply strategy. This reduces the overall risk of managing the trial supplies as Supply App harmonizes the IMP plan with the impact of the IRT settings and quantities needed for local depot replenishment. With this overall clinical trial supply plan, the overage needed to safely execute the strategy is calculated by the Supply App, so no guesswork is needed!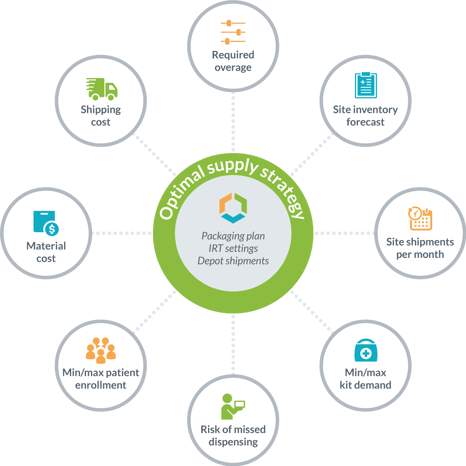 #3: Clinical trial supply management with easier strategic planning and fact-based decision making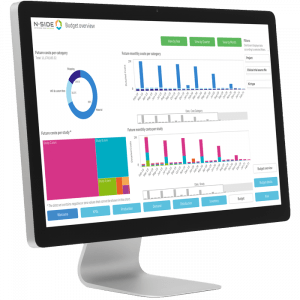 Thanks to having optimization results for the supply of individual clinical trials, metrics such as inventory levels, demand forecasts, risk, site shipments and budget, for example, can be viewed in dashboards. These results can be aggregated in the dashboards by clinical program and then across the entire trial portfolio. Having the overall clinical supplies budget broken down by cost category gives the big picture to assess feasibility of future spending. Having the aggregated demand forecast shows the number of packages expected to be dispensed for all of your clinical trials at a glance. Having the global view on the number of site shipments leaving a specific local depot per month helps plan workforce needs in advance. Being able to to visualize and investigate these metrics within one solution for clinical trial supply management allows for both strategic planning and decision making.
#4: Process improvement happens thanks to risk-based optimization
Different internal process improvements have also stemmed from implementing risk-based optimization for managing clinical trial supply. One type of improvement reported back to us is the standardization of the clinical trial supply forecast process across the Clinical Trial Supply department. Having one approach for gathering assumptions and one solution for creating forecasts using risk-based optimization software facilitates this change.

Process lead times, such as those for packaging and labeling, can be challenged based on optimization results to better fit the trial supply strategy. For example, showing the impact on drug waste and budget of adjusting the overlap between packaging and labelling releases can drive change to improve the overall process.
#5: It's not only the Clinical Trial Supplies group who benefits.
Implementing risk-based optimization for clinical trial supply management increases cross-department collaboration and also allows teams to assess their decisions on site and patient-centricity of their plans.
With the Supply App, many different scenarios can be tested in advance of making final decisions about the clinical trial design. By starting the collaboration early, and optimizing the clinical trial design, different teams can learn the impact of their decisions on the study parameters such as cost, risk and overage. For example, being able to compare the impact of a kit design decision, whether to include 3, 4 or 5 doses per kit, enabled the clinical trial supply team, clinical operations team and packaging team to collaborate on identifying the best solution based on the specificities on the trial while keeping the patient experience in mind.
Beyond cross-department collaboration, the Supply App can also help in decision making that will have an impact on site and patient-centricity. For example, different trial supply strategies will result in different number of site shipments and inventories. Clinical supply optimization results forecast these measures and allow decisions to be taken so that outcomes will be manageable by the site. Additionally, questions such as changes in number and size of kits dispensed to the patient per visit and how often the patient will need to travel to the site can be investigated so that teams can select feasible strategies that help maintain patient-centricity of the trial design.
While keeping the patient-centricity, the collaboration between the different teams makes the final strategy more "supply friendly." This can translate into less waste and less shipments.
Supply Optimization goes beyond optimizing supplies
When deciding to start using risk-based optimization for your clinical trial supply management, it is important to assess the types of results you can expect. Using the Supply App allow accurate modelling of all of your trial complexity. You can also quickly investigate many different what-if scenarios. Working with risk-based optimization results have helped our clients to shift out of firefighting mode, and increase their control over their clinical trial supply management. They have also started to collaborate earlier with other teams using quantified results.
We would like to thank all of our pharma partners for their collaboration and feedback over the past 20 years! Together, we are moving forward towards a more efficient clinical supply chain management to better serve patients.
Learn more about the full range of benefits of risk-based optimization with the Supply App!