"How can I monitor my study and manage my clinical supplies better?"
Trial supply managers often ask themselves how they can be more efficient and proactive in clinical trial monitoring. It is well known that successfully managing clinical supplies is a challenge due to the high level of uncertainty involved, the increasing complexity and costs of clinical trials. In our recent article written together with Sanofi, we addressed this question.
Why is clinical trial monitoring so critical?
Trial supply managers monitor on-going clinical trials for a number of reasons, including the following:
Trial supply managers must ensure that the current strategy is still efficient. For example, if patient recruitment is faster in one region or country than expected, changes may need to be made in

depot resupply or even IMP packaging plans.

Monitoring the trial enables trial supply managers to be proactive in realigning the strategy. Clinical trial monitoring helps avoid firefighting activities and allows managers to mitigate risk with timely and effective actions.
This leads to the final, most important, reason – to ensure that there is no risk for a patient to miss a dispensing visit. With efficient clinical trial monitoring, trial supply managers can respond quickly as soon as the realities of what is happening in the trial deviate from the assumptions.
Learn about Sanofi's new clinical trial monitoring approach in our white paper
Sanofi has implemented a new solution to improve clinical trial monitoring: using the monitoring dashboards from the N-SIDE software for Clinical Trials. These dashboards help trial supply managers compare real, live study data coming from the IRT on a daily basis with the study plan and statistics efficiently and easily. Sanofi trial supply managers can find the answer to daily questions such as "what is my study status today?" in one click.
"With the help of the monitoring dashboards from the N-SIDE Supply App,

as a trial supply manager, I know precisely the status of my trials. I am empowered to manage supplies for my trials efficiently while proactively managing risk."
Julie Pencole, Clinical trial supply manager and N-SIDE Supply App Key User and Expert, Sanofi
With the monitoring dashboards from the N-SIDE Supply App, Sanofi has seen three main benefits leading to study success.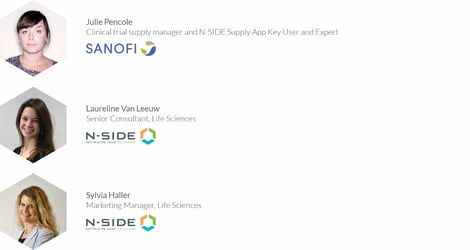 Learn how Sanofi improved clinical trial monitoring using the N-SIDE Supply App.